Alaska Rentals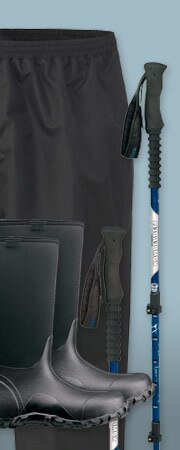 Rent Boots, Pants & Poles With Free Delivery to the Ship
Heavy boots and waterproof pants are essential items for Alaska expedition travelers. Trekking poles provide stability while ashore.
Rent Boots, Pants & Poles
Why Rent?
Less luggage. Boots are heavy and take up lots of your allowed checked luggage weight.
Convenience. Free boot delivery to the ship through our Concierge Service.
Sustainable choice. Renting boots is a smart environmental choice if you will likely not wear them again. The drastic savings in fuel and carbon is seen below... Both the Reduce & Reuse part of 'Reduce, Reuse and Recycle' are implemented.
Alaska Rental Service
Rentals are delivered to and picked up from the ship.
Available on NG Orion Wrangel Island August 10- 23, 2019.
Rental boots and waterproof pants must be ordered 14 days before embarkation date.
Orders 13 - 11 days prior to sailing may be possible through contacting Customer Care.
Orders 10 days or less: sorry, rentals are not possible.
Rental period is per cruise. For back-to-back cruise rentals please contact us to arrange to keep the rentals for the full duration. Rental per cruise and only one deposit will be charged.
Cancellation & Promotional Policies
Cancellation up to 10 days before sailing: full refund
Cancellation less than 10 days before sailing: sorry, no refund
Rental Agreement
By renting the renter agrees to pay the following amounts, in addition to the rental fee, in the event that rental(s) or delivery bag are not returned or returned damaged
Non-return/returned damaged charges: $100 per pair of boots; $60 per pair of pants; $70 per set of poles
Please retain your receipt as proof of returns
Save Space, Rent Boots
Though essential for wading in icy waters during Zodiac landings, the proper boots are bulky and weigh between 4.5 lbs / 2.5 kgs to 6 pounds / 2.73 kgs. By renting boots, you are guaranteed to have the best boot to stay warm and dry in Alaska, while gaining space in your luggage for expedition gear and clothing.
Rest assured, all boots are sanitized after each rental using products that have been proven to work in U.S. high-end ski resort rentals.
About Zodiac Classic High Boots
Comfortable, insulated boots are essential for expeditions to Alaska. The Zodiac Classic High Boots are flexible, durable and will keep your feet warm. A range of women's, men's and children's sizes are available.
Boots are also available to purchase:
Buy Boots
Add Expedition Gear To Your Order
Add expedition gear to your boot rental order (placed 30 days prior to sailing). You will receive free shipping on the boots, however, you will be charged a flat rate of $50 for orders containing items other than boots.
Get Fully Outfitted for Alaska